---
How companies benefit from used Microsoft licences after support ends
Whether medium-sized companies, large enterprises or public administration - Microsoft products are used almost everywhere. Operating systems, such as Windows Server Standard or Datacenter, Exchange or SQL Server, as well as application software, such as the popular Office programmes, convince with user familiarity, high functionality, stability and security. The dynamics in the field of software development are high. Especially in the case of Windows servers and MS Office, this means that a new version is launched on the market every three years on average. The associated re-licensing is therefore regularly advertised by manufacturers with a great deal of pressure. Pressure that automatically increases for large licensees with the respective end of support.

In this blog post, you will learn which questions IT managers should always ask themselves and how they can optimally use the period before the respective end of support for efficient licence management.

General support or extended support
Microsoft's lifecycle guidelines provide concrete and therefore plannable specifications for the support of the respective product. Most products, for example Windows Server, Exchange Server or MS Office, are supported until a fixed end date. During this period, Microsoft usually offers 10 years of support - the first 5 years of general, so-called mainstream support, followed by another 5 years of extended support.

Included in mainstream support for the supported service pack level are:


free and paid assistance with support cases


Support with security updates


Optional: request for non-security updates


Included in the extended support for the supported service pack level are:


Paid support (depending on the product, free support may still be available)


Free support with security updates


For complete support (including security and DST updates), the current service pack with updates and bug fixes must always be installed. For individual products, it may also be necessary to conclude a maintenance contract. Further details on the support of individual products can be found at any time in the current Microsoft lifecycle guidelines.

PREO tip: With all used software licences, you acquire all existing rights to updates, security patches and service packs. Whether operating systems, servers or application software - the PREO licence experts will be happy to advise you personally and provide you with a non-binding offer.



Windows Server, Exchange Server or Office - when does the extended support end?
Most companies or administrations also benefit from the extended support due to their purchased volume licences, which usually extends the general support for updates, security patches and service packs by 5 years. The respective deadlines for the end of support apply not only to new licensing, but also to the respective version as used software. In the following, we have summarised the most important end dates for Windows Server, Exchange Server and Office, as the end of support for Windows Server versions 2012 and Office 2013 is due in 2023.

Extended support for the most popular Microsoft products will continue until: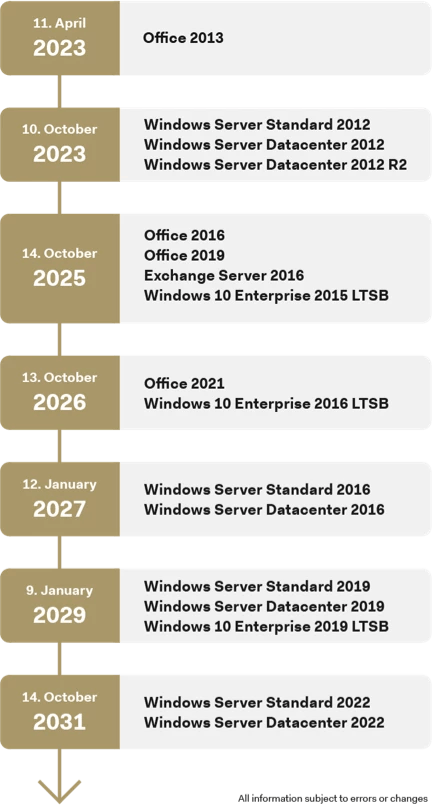 Important questions that you should clarify before the end of support for Windows Server, Exchange Server or Office
As early as 2023, with the end of extended support for widely used products such as Office 2013, Windows Server Standard 2012, or Datacenter 2012/2012 R2, the question arises as to which successor licensing should take place. In order to make the best possible decision for the company, it helps to answer the following questions as specifically as possible:


Which and how many licences must be renewed by when?


Is an upgrade to the latest version recommended by the manufacturer also necessary in all affected areas and at the respective workstations?


Does this mean that other licences of the existing software architecture must also be upgraded to a newer version for compatibility reasons?


Where are updates to a successor version sufficient, whose extended support still has a sufficiently large time window of about 3-4 years, for example from Windows Server Datacenter 2012 to 2016, and what are the consequences for the associated software assets?


Which and how many of these can be replaced by buying used software licences without application losses?


How high is the savings potential compared to the latest licence?


In which areas does a switch to the cloud solutions pushed by manufacturers make sense and in which on-premise solutions are more effective and cheaper - especially when using used software?


You are currently facing one or more of these questions, but are still unsure which form of re-licensing is the best possible for your company and which role used software can or even should play in this?

The PREO licensing experts will be happy to advise you personally on the use of used software in your existing software architecture, explain the current possibilities with the upcoming end of support for Windows servers, Exchange servers and MS Office and calculate your financial savings potential.



Even without an end of support - how Swedex was able to save a six-figure sum with used software
However, you do not necessarily have to wait until the extended support of your respective licences expires in order to optimise your existing software architecture with used software. This can be seen in the example of the Essen-based company Swedex with almost 300 employees. After three years in the cloud, the medium-sized producer of office supplies decided to switch to used Microsoft server and Office licences. Swedex needed a large number of licences, which PREO delivered audit-proof and at significantly lower prices. This resulted in a high saving of almost 100,000 euros compared to the previous licence costs. The price advantage compared to the new product was almost 50 percent and this with the same level of used functionality.


In this customer case, you can read why Markus Schlichting, head of Swedex IT, was convinced by the used software and server licences from PREO, not only because of the financial savings potential, but also in terms of audit security.


Support after the end of support - what options are there?
Safety first - this is especially true when it comes to software security. That is why there is the so-called ESU programme (Extended Security Update) for certain older Microsoft products, such as Windows 7 or Windows Server 2008 R2.

It offers customers only important security updates for a maximum of three years after the expiry of the extended support. However, you should note that the extended security updates do not include new functions, self-requested, non-security updates or design change requests.


Whether the licences were purchased new or used is also fundamentally irrelevant in this case. If you have any questions, the PREO licence experts will be happy to help you.

Regularly check and optimise software inventory

Basically, every development or change process within the company is also an opportunity to check the existing software inventory including the respective licences and to use financial potentials. Our experience shows: Even for medium-sized companies, the integration of used software can quickly lead to financial savings in the five or six-digit range, as our reference examples underline. Either through a noticeable reduction in licence costs or the generation of income through the sale of software that is no longer needed.


But even in ongoing operations there are of course occasions to optimise the existing licence stock. The regular review in the fourth and thus last quarter of a business year, when the budget planning for the coming year is usually due, has proven to be a good idea. This is an ideal time to optimise the existing IT budget by buying or selling used software licences.