---
Buy SQL Server licences used and save up to 70 percent
Whether for classic database administration, the execution of business applications such as CRM systems or e-commerce platforms, business intelligence solutions for data analysis and reporting or database integration in web-based applications - the extensive functions of SQL servers are almost indispensable in the IT infrastructure of medium-sized and larger companies or public administrations. This makes customised licensing of SQL servers based on the respective standard or enterprise editions all the more important.

In this blog post, we use the example of the current version SQL Server 2022 to go into the different licensing options and changes of the recent past and explain how you can measurably increase the efficiency of your SA management by integrating used server licences from PREO.

Licensing SQL Server 2022 - these options are available
The following options are available for demand-oriented and cost-optimised licensing of SQL servers:

1. Licensing according to physical cores

Licensing by physical cores licences the actual available processor performance of a server. In this case, all physical processor cores of the server must be licensed, but at least four cores per processor (minimum licensing). If a processor is equipped with fewer than four cores, the minimum licensing means that the server must still be allocated four licences for this processor. The number of licences must therefore at least correspond to the number of physical cores, but may differ due to the minimum licensing described. Licensing by physical cores is available for both the Standard and Enterprise Editions.

2. Licensing according to individual virtual OSE (Operating System Environment).

If the SQL Server software is only run virtually, it is possible to license the processor performance actually used, i.e. the number of virtual cores (vCores) per OSE. This licensing option is primarily relevant for determining the cost-optimal licensing in virtual environments (keyword: break-even point) (see below). As with licensing by physical cores, licensing by individual virtual OSE knows a minimum licensing of four virtual cores (vCores) per virtual OSE (VOSE).

Licensing by individual virtual OSE is also available for both SQL Server editions (Standard and Enterprise). With the introduction of SQL Server 2022, however, licensing by individual virtual OSE is only valid for licences with active Software Assurance (SA) or subscription licences (subscription licences have so-called SA-equivalent rights, which is equivalent to active Software Assurance). It follows that there are effectively no more virtualisation rights for the SQL Standard Edition without active SA.

SQL Server Standard licences of the 2019 editions and before, on the other hand, can still be licensed without active Software Assurance after individual virtual OSE.

3. Server/CAL licensing

This form of licensing is now only available for the standard version. It requires the purchase of server licences for each physical or virtual OSE on which the SQL Server software is run. Unlike licensing by cores (regardless of whether physical or virtual cores), with Server/CAL licensing all access to the SQL Server software must be licensed with Client Access Licenses (CALs) either for the number of users or devices accessing the respective SQL Server. A cost optimum for licensing can also be determined for the Server/CAL model. This involves comparing whether the costs for the access licences (CALs) in conjunction with the one-time server licence are cheaper than the costs of licensing by cores. The following figure shows an example of how such a cost optimum can be calculated: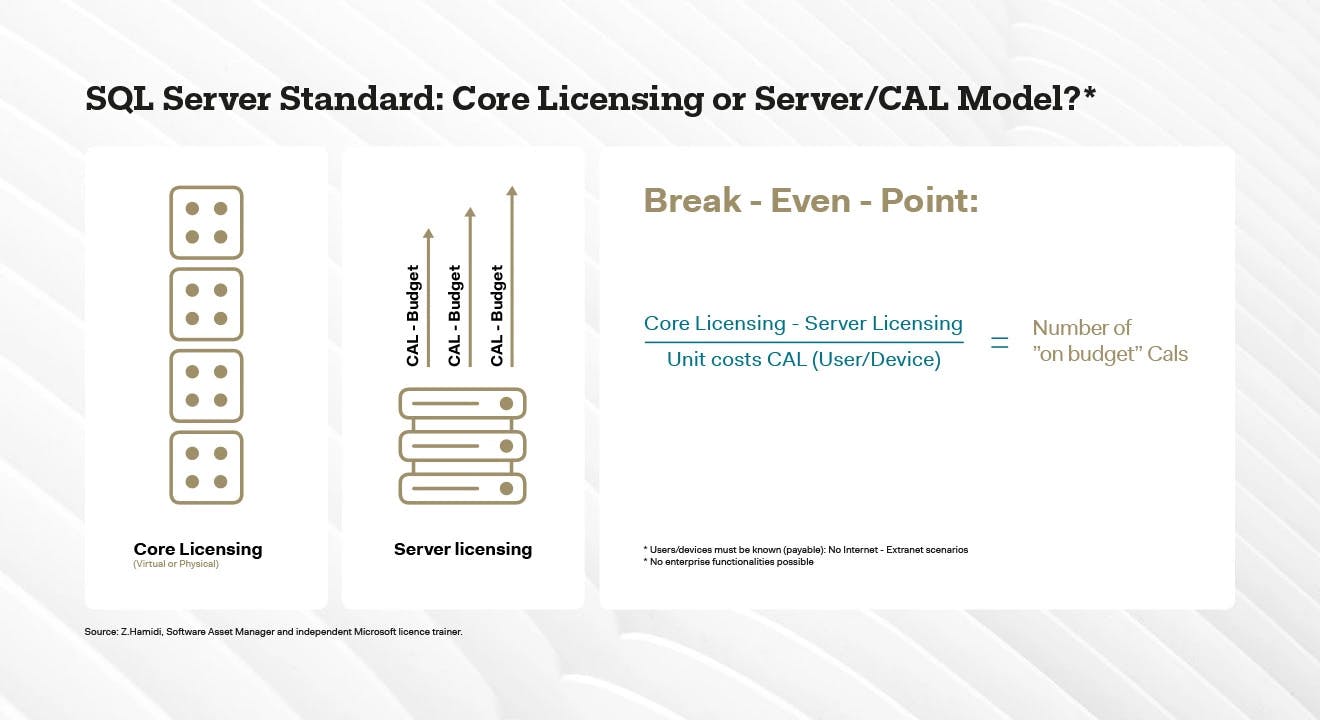 As one of the leading providers of used on-premise software in Europe, we go into more detail here about the associated virtualisation rights of the various licensing models, as these are essential for optimal licensing.
SQL Server Licensing - Virtualisation Rights per Licence Model
1. Virtualisation rights with licensing by physical cores
The licensing of the physical cores in the Standard Editions (in contrast to Windows Server Standard, for example) does not offer any virtualisation rights. In the Enterprise Edition, the virtualisation right depends on whether the licence is under active Software Assurance or alternatively leased as a subscription licence. If licences have active SA, the Enterprise Edition entitles the user to run the SQL Server software in an unlimited number of OSEs. Without active Software Assurance, Enterprise editions may run the SQL Server software in as many OSEs as licences are assigned to the server.

Knowledge of these virtualisation rights is all the more valuable as it could come into question as a more economical licensing option. After all, there may be technical scenarios from SQL Server Standard where it may make economic sense to license by physical cores with the Enterprise Edition (down-edition right) and then claim the (unlimited) virtualisation right (instead of licensing the individual virtual OSEs with Standard).

However, it would also be conceivable to licence according to physical cores when using the Enterprise Edition in exclusively virtual OSEs, because the implied virtualisation rights of the Enterprise Edition when licensing according to physical cores make licensing more cost-effective than licensing according to individual virtual OSE (Enterprise). Even if Standard and Enterprise are running virtually on one host, it should be checked whether licensing by physical cores in the Enterprise edition is not more favourable due to the virtualisation right.
2. Virtualisation rights with the licensing of individual virtual machines
The virtualisation right in this licence model is implicit in the licence metric itself. In both the Standard and Enterprise Editions, the licensing of a single virtual OSE results from this. As mentioned above, with the release of SQL Server 2022, this licensing option is only available for licences with active Software Assurance or for subscription licences.

For companies that actually virtualise the SQL Server software without active SA in the standard edition, this serious change in the licensing metric means that they will have to face higher licensing costs at the end of the SQL Server 2019 lifecycle (January 2030), and that without any change in technical performance. There are only two licensing alternatives for these companies: either to purchase the SQL Server 2022 Standard Edition with active SA and pay SA throughout, or to license the physical cores of the host with the SQL Server 2022 Enterprise without SA. This is because the Enterprise edition without SA also entitles the user to virtualise standard OSEs (down edition right).
3. Virtualisation rights with server/CAL licensing
Similar to licensing by individual virtual OSE, this licensing model, available exclusively for the Standard Edition, results from the licensing metric itself. To license virtual OSEs, a server licence must be assigned to each virtual OSE. Attention: Access to virtual OSEs is also subject to licensing, i.e. CALs are also required for access to virtually executed SQL Server software.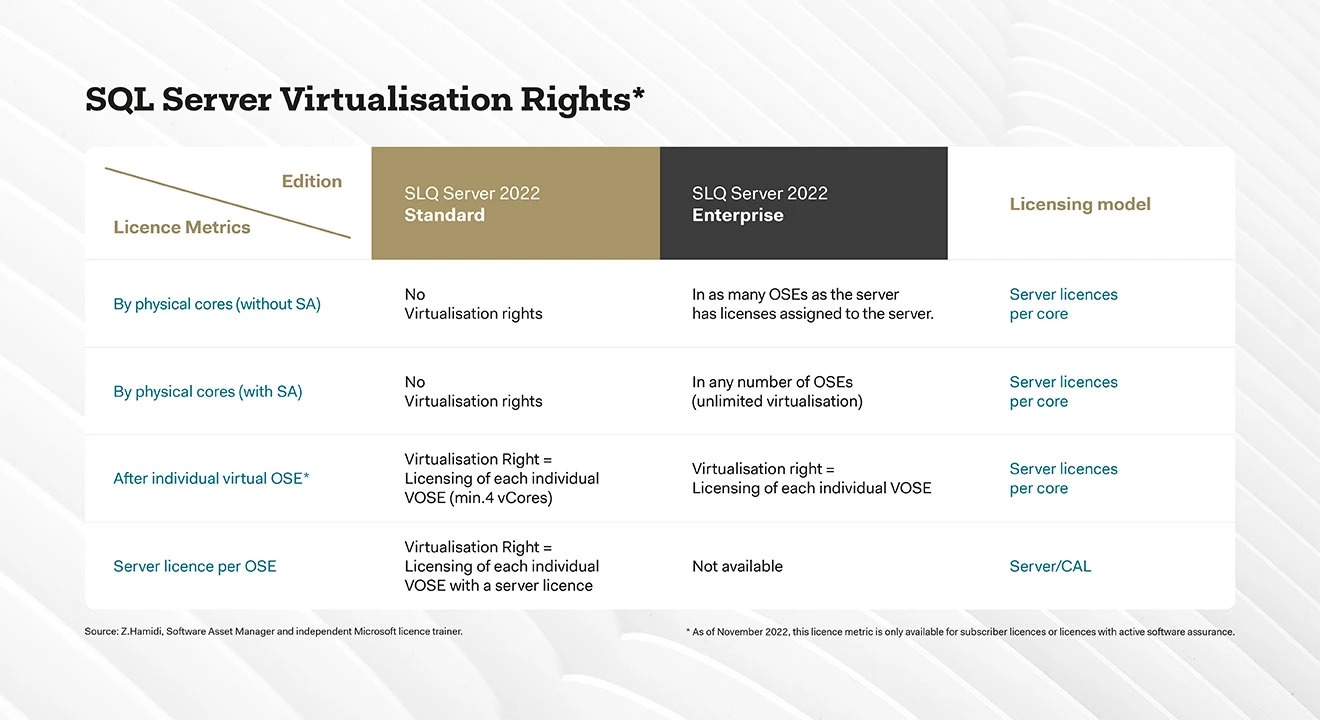 PREO-TIP: Advice on licensing SQL Server use
Our licensing experts will be happy to advise you personally on the various options, including the integration of used SQL Server licences in the per-core or server/CAL model, the associated price advantages and the integration into your existing IT infrastructure.


Licensing SQL Server - Using step-up licences for on-premises solutions
Microsoft's step-up licences can save you money, because they offer the possibility of switching to a higher software version at a favourable price. The user of the step-up licences only pays the difference in price between the software currently in use with the basic licence and the higher version to which he or she switches. Prerequisites for using the step-up licence are a valid Software Assurance for the version currently in use and a licence version that can be upgraded, such as SQL Server Standard. Step-up licences are only available for on-premise operation and not for Microsoft Cloud products.

Used server licences - PREO expertise and large selection
We are one of the pioneers in the European trade with used software and server licences and offer our customers a large selection of used Microsoft SQL Server licences for Standard and Enterprise versions 2014, 2016, 2019 and 2022.

Special advantage: Our used licences for SQL Server Standard 2019 or 2016 do not include Software Assurance and therefore still offer the licensing right according to individual virtual OSE, which was abolished with the version 2022.

In addition to used licences for SQL servers, you will also find all other Microsoft server licences, such as Windows Server 2022, 2019 or 2016, as well as the various licence versions of Exchange servers or Sharepoint servers, including the corresponding server CALs or Core CAL suites.

Take advantage of the free and non-binding initial consultation with the PREO licensing experts and benefit from:
high savings in ongoing licence costs. For older server versions, savings of up to 70 percent are even possible compared to the respective new version.


Personal advice on all questions relating to licence transactions or the integration of used server licences in classic network structures or hybrid cloud models.


100 percent legally and audit-proof licence acquisition with maximum transparency in all processing steps, including complete documentation in the PREO licence portal "Easy Compliance".


Existing capacities for software licence management in large IT infrastructure projects with thousands of workstations and transnational locations.


Detailed market knowledge and extensive experience through the audit-proof transfer of over one million used software licences.


Expertise from numerous reference projects that PREO has already successfully implemented for well-known companies.